Chibaby
Body Type
Onion
Abilities
Overgrowth

Onion Breath

Episode First Shown in
None
First Known Owner
None
First Game Appeared in
Type
Grass/Poison
National Dex Number
B001
 Chibaby is a Grass/Poison-type Pokemon. It evolves into Chiveo at level 16, and then evolves into Monchive at level 32. It is native to the
Biotri Region
, which is in the games
Pokemon Bio/Mecha Version
. It is the Grass-type starter of the Biotri region.
Appearance
Edit
Chibaby appears to be a small onion-like Pokemon. It has two small leaves on its head, and inbetween them is a small hole with which it releases gas.
Appearances
Edit
None
Lvl.0- Poison Sting, Growl
Lvl.3- Tackle
Lvl.7- Poison Powder
Lvl.11- Leech Seed
Lvl.14- Razor Leaf
Lvl.20- Slam
Lvl.24- Bug Spray
Lvl.29- Aromatherapy
Lvl.38- Seed Bomb
Pokedex Entry
Edit
Pokemon Bio Version
Edit
Chibaby is commonly mistaken for an onion, and if picked from the ground, it releases a gas that causes people to cry.
Pokemon Mecha Version
Edit
Chibaby often lives in forests or even gardens, and can release a very bad-smelling gas that will cause people to cry.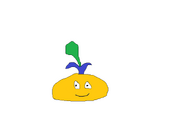 Community content is available under
CC-BY-SA
unless otherwise noted.