Ben Tennyson is one of the main characters of Pokémon Tales: Ben 10, a spin-off series in the Pokémon Tales franchise. The other main character is his cousin Gwen Tennyson.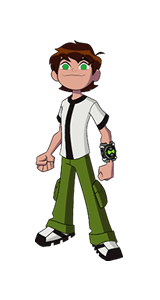 Ben is a trainer from Vaniville Town, where he, along with his cousin Gwen, set off on a Pokémon journey. Upon arriving in Aquacorde Town, they find Trevor, the assistant to Professor Sycamore, has been robbed of a starter Pokémon. Ben goes and chases the thief, named Kevin, trying to get the Pokémon back. He loses, and Kevin escapes.
Ben's goal is to become a Pokémon Master, and is quite gifted in catching Pokémon. By the end of his first episode, he had used up all his initial Pokéballs, giving him a total of 6 Pokémon (while only three are shown on screen at that time)
In Rotation
Edit
At Professor Sycamore's lab
Edit
Traded Away
Edit
Badges Earned
Edit
Competitions
Edit
Lumiose Conferene: Victor
Elite Four Challenge: loses in first match
Appearances
Edit
Every episode, main character
Episodes Focusing on him
Edit
He is based off the title character from the Ben 10 series.
On his debut, he was 11. He had turned 12 by the time he won the Kalos League, as stated in Vs. Donphan. As of his most recent appearance, he is 14.
All of his main Pokémon will be nicknamed after his aliens from his original series.
It will be common for him to use Pokémon he obtained offscreen much later than their initial capture.
Ben is one of the first main characters to retrieve a starter Pokémon from a regional professor in Pokémon Tales, as only rival characters had received them before. The other one is Gwen.